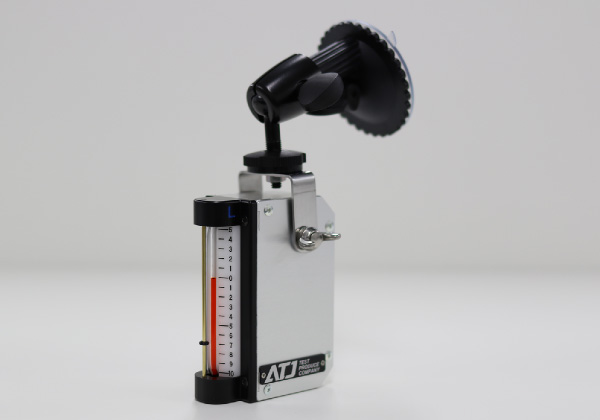 Simple Acceleration Meter "G-meter"
Summarized the ideas of professional test drivers
Our G-meter is a product developed by summarizing the ideas of professional test drivers who drive the vehicle under various conditions. Made by reflecting many opinions such as vibration during driving, high visibility with wide angle of the G-level and scale, flexibility in a fixing angle, backlight for night driving.
Demonstrate the maximum capacity of simplified measuring function
The concept of development of our G-meter is easy to install, easily operate, and use it easily without a complicated setting process at the site of running test.
Also, it realized a clear visual field and low vibration by reducing the size and weight. It provides marvelous visibility under any conditions, display the "G" correctly, in real time and provide safety and security in the daily test operations
Note: Do not use our G-meter under the conditions described below or general roads. There is a possibility of dropping/damaging/breakage/vibration.
Road conditions: rough surface, stone pavement, joint, off-road, undulated road and graveled road, any roads which have uneven area.
Product
name
Simple Acceleration Meter G-meter
Model
number
TEE-012-GM
Weight
348g including the suction cup
External
dimensions
H105mm × W43mm × D77mm (Main unit only)
Measuring
range
Acceleration G: 5-10 m/s2
Turning G: 0-10 m/s2
Non-linearity
5%
Temperature
characteristics
+4% shift (@50degC)
Battery
CR2 Lithium Battery for LED backlight
Japanese Patent
Application
Number
特願2010-119826***